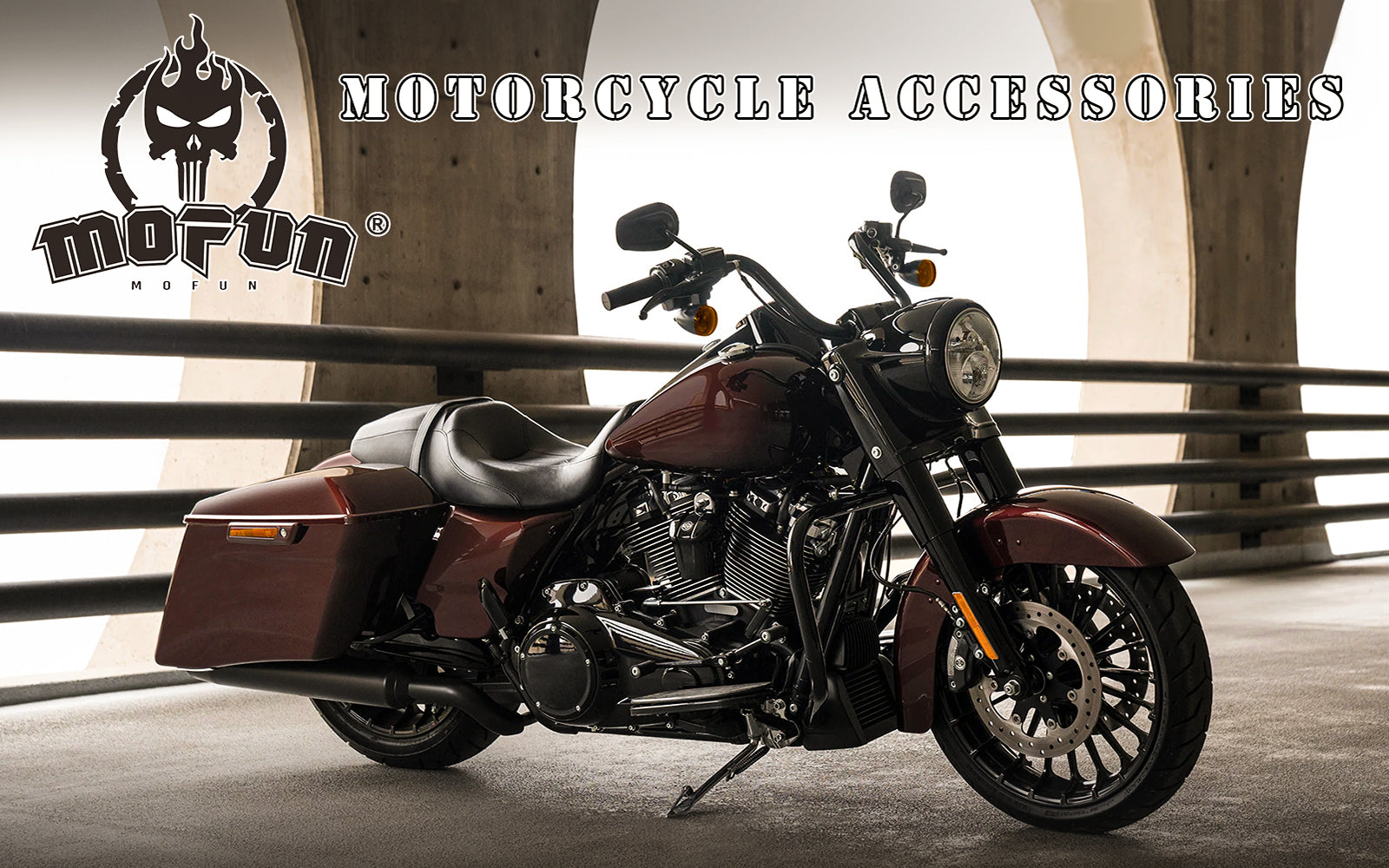 Fitment:

>>1999-2017 HARLEY ALL TWIN CAM
Specifications:

>>Made of high-quality steel materials
>>The collet and fine threaded adopted with special style.Easy install,Design hole can fit the engine.
>>incorporated a new removal hole that works as a window to let you see what you are doing while using the tool.
>>Come with installation instruction
Package Included:

1 x Black steel 8mm cam bearing plate
1 x Installer tool
1 x Puller tool
4 x Thumb screws.
Dyna Fat Bob - FXDF • 2009-2017
Dyna Fat Bob CVO/SE - FXDFSE • 2009
Dyna Fat Bob CVO/SE - FXDFSE 2 • 2010
Dyna Low Rider - FXDL • 2014-2017
Dyna Low Rider (EFI) -FXDL • 2007-2008
Dyna Low Rider Injected - FXDL I • 2006
Dyna Street Bob - FXDB • 2009-2017
Dyna Street Bob (EFI) - FXDB • 2007-2008
Dyna Super Glide (EFI) - FXD • 2007-2008
Dyna Super Glide Custom - FXDC • 2009-2014
Dyna Super Glide Custom (EFI) - FXDC • 2007-2008
Dyna Super Glide Custom Injected - FXDC I • 2006
Dyna Super Glide CVO/SE (EFI) - FXDSE • 2007
Dyna Super Glide CVO/SE (EFI) - FXDSE 2 • 2008
Dyna Super Glide Injected - FXD I • 2006
Dyna Switchback - FLD • 2012-2016
Dyna Wide Glide - FXDWG • 2010-2017
Dyna Wide Glide (EFI) - FXDWG • 2007-2008
Dyna Wide Glide Injected - FXDWG I • 2006
Electra Glide Classic - FLHTC • 2009-2013
Electra Glide Classic (EFI) - FLHTC • 2007-2008
Electra Glide Police - FLHTP • 2014-2016
Electra Glide Standard - FLHT • 2009
Electra Glide Standard (EFI) - FLHT • 2007-2008
Electra Glide Ultra Classic - FLHTCU • 2009-2016
Electra Glide Ultra Classic (EFI) - FLHTCU • 2007-2008
Electra Glide Ultra Classic CVO/SE (EFI) - FLHTCUSE 2 • 2007
Electra Glide Ultra Classic CVO/SE (EFI) - FLHTCUSE 3 • 2008
Electra Glide Ultra Classic Low - FLHTCUL • 2015-2016
Electra Glide Ultra Limited - FLHTK • 2010-2016
Electra Glide Ultra Limited CVO/SE - FLHTKSE • 2014-2016
Electra Glide Ultra Limited Low - FLHTKL • 2015-2016
Freewheeler - FLRT • 2015-2016
Heritage Softail Classic - FLSTC • 2009-2017
Heritage Softail Classic (EFI) - FLSTC • 2007-2008
Low Rider S - FXDLS • 2016-2017
Road Glide - FLTR • 2009
Road Glide - FLTRX • 2015-2016
Road Glide (EFI) - FLTR • 2007-2008
Road Glide Custom - FLTRX • 2010-2013
Road Glide Custom CVO/SE - FLTRXSE • 2012
Road Glide Custom CVO/SE - FLTRXSE 2 • 2013
Road Glide CVO/SE - FLTRSE 3 • 2009
Road Glide Special - FLTRXS 2015-2016
Road Glide Ultra - FLTRU 2011-2013, 2016
Road Glide Ultra CVO/SE - FLTRUSE 2011, 2015-2016
Road King - FLHR 2009-2016
Road King (EFI) - FLHR 2007-2008
Road King Classic - FLHRC 2009-2013
Road King Classic (EFI) - FLHRC 2007-2008
Road King Custom (EFI) - FLHRS 2007
Road King CVO/SE - FLHRSE 2014
Road King CVO/SE - FLHRSE 5 2013
Road King CVO/SE (EFI) - FLHRSE 3 2007
Road King CVO/SE (EFI) - FLHRSE 4 2008
Softail Blackline - FXS 2011-2013
Softail Breakout - FXSB 2013-2017
Softail Cross Bones - FLSTSB 2009-2011
Softail Cross Bones (EFI) - FLSTSB 2008
Softail Custom - FXSTC 2009-2010
Softail Custom (EFI) - FXSTC 2007-2008
Softail Deluxe - FLSTN 2009-2017
Softail Deluxe (EFI) - FLSTN 2007-2008
Softail Deuce (EFI) - FXSTD 2007
Softail Fat Boy - FLSTF 2009-2017
Softail Fat Boy (EFI) - FLSTF 2007-2008
Softail Fat Boy Lo - FLSTFB 2010-2016
Softail Fat Boy S - FLSTFBS 2016-2017
Softail Night Train - FXSTB 2009
Softail Night Train (EFI) - FXSTB 2007-2008
Softail Rocker - FXCW 2009
Softail Rocker (EFI) - FXCW 2008
Softail Rocker C - FXCWC 2009-2011
Softail Rocker C (EFI) - FXCWC 2008
Softail Slim - FLS 2012-2017
Softail Slim S - FLSS 2016-2017
Softail Springer Classic (EFI) - FLSTSC 2007
Softail Standard (EFI) - FXST 2007
Street Glide - FLHX 2009-2016
Street Glide (EFI) - FLHX 2007-2008
Street Glide CVO/SE - FLHXSE 2010, 2015-2016
Street Glide CVO/SE - FLHXSE 2 2011
Street Glide CVO/SE - FLHXSE 3 2012
Street Glide Special - FLHXS 2014-2016
Street Glide Trike - FLHXXX 2010-2011
Tri Glide Ultra Classic - FLHTCUTG 2009-2016
Product title
$19.99 | $24.99
Product title
$19.99 | $24.99
Product title
$19.99 | $24.99
Product title
$19.99 | $24.99